I got a Brazilian blowout this weekend.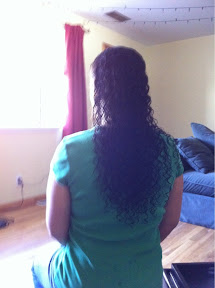 Nope, that isn't a before shot. That is my new hair wet.
My new hair dry.
I like it. It is just strange that it's still so curly.
The process was pretty simple. She washed my hair with a stripping shampoo then combed the product through. Then blew it dry and flat ironed it (it was really straight and shiny at that point, I wish I'd taken pictures). The, the horror, she washed it! Making my straight hair curly again.
The products for upkeep scare me and I am nervous to go swimming for fear it will shorten my time with my new more manageable hair.
And my hair IS more manageable but very curly. I still don't know how to style curls. It is so soft Which is also foreign to me.
I guess I feel like this is closer to the hair that people envy but I am still a bit uncertain.
- Posted using BlogPress from my iPhone