I ran this race because a friend asked me to. That's pretty much it. I was still feeling anti about getting up early and being cold and adding another shirt to my collection, etc. But she asked and it is a fun race so I said yes.
I was really glad I did. It had been too long since I did a fun run and you know what? They are fun! It was nice getting to catch up with DSF (though I think now it is going to be T-Spork) and since we both have weddings coming up we got to talk about all the wedding goings-on.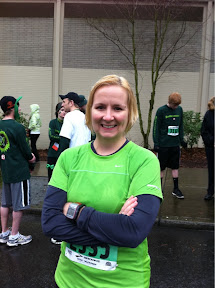 Sadly, this race was on March 13, 2011…my favorite day of the year, time change! I am always SO happy to give that freaking hour back in order to get a bit of sunshine daylight in my life. But this meant that the race started at Dark O'30-1hr! Eek!
So I picked up T-Spork at Dark O'30-1hr -~1.5hr (I think it was 7am new time) and we hit the road.
It wasn't too cold but a bit drizzly, we killed time chatting and admiring St. Pat's costumes and before we knew it-time to run! I hit the road and got all smiley…I forgot it is pretty fun to take off running with a giant pack of people (many dressed like goobers).
My legs felt heavier than I would have liked, especially considering I had been running many miles the past few months. I had my Garmin in my pocket and didn't look at it until we had already turned around. I was clipping along relatively fast for me which I hoped was the reason for my heavy legs.
The JOY! The turnaround for this race is well over halfway so before I knew it I was approaching the finish line! I ran an average pace of 9:07 which I was pretty happy with.
The funniest/most eventful part of the morning was T-Spork and my meet up spot. We'd agreed to meet at the whale in Seattle Center. No Prob! I worked at the PSC for 2 years, I knew very well the whale tail outside of there. So I went there directly after the race and waited. And waited. And waited. I got a tad worried and called M to see if he'd heard from Spork's hunny that she had been medivac'd away and I didn't know. While we were on the phone he got a strange call. He checked messages and it was her! Hooray! She was at the OTHER whale and had borrowed a phone to call him and ask about my medivac status (probably not, I think she just knew his number by heart). I guess whale statue isn't descriptive enough in the PNW.
We met up and headed out to a lovely brunch at her place with our sweeties…overall a good Sunday morning.
- Posted using BlogPress from my iPhone